Hi! This is me who is recently addicted to books! XD
Yes, I'm a newbie bookworm! LOL
I've never been like this before. I didn't really like reading. But now, I spend most of my free time to read. And I like it.
And this is why I'm not really into Johnnys fandom recently. Despite I love JUMP's new song, I don't really pay attention to them like i used to.
Any of you that is also a bookworm or like reading like me?
I made a
goodreads
account sometimes ago, if any of you also like reading, please add me! :D
I only have 8 friends there now XD
I'd be so happy if i have janiwota friends who are also a bookworm.
Now I can list all books i want to read, the books i have read, and I currently read.
But I don't really give a review since my English is not really good lol
でも頑張る!
(ง •̀_•́)ง
So many books i want to read but don't have enough time to
。゚(゚´Д`゚)゚。
And if you want to read the books I have read, or I currently read, I have the ebooks. I can re-upload them if you're interested xD
Or just simply leave your email address and tell me what books you want to read, I will email them for you :)
AND OH!!!
First of all, I'm soooo sorry if i didn't respond any comments. It wasn't that I didn't want to, it's because LJ didn't give me notifications! Dx
All i got in my inbox are bday notifications which are really annoys me -__- lol
But then when I open LJ home, i just found out that.....
There are comments since 3 weeks ago!! ;A;
I think it's too late to reply them now. So i'm sorry m(_ _)m
Beside books, now I'm soooooo into Fifty Shades of Grey!! If you're my follower on twitter or tumblr maybe you already know this xD
Well, actually this is why I'm so addicted to books now. All because of Fifty Shades series books.
I can't wait for the movie!
This is from yesterday's set. The first kissing scene for Jamie and Dakota. ASDFGHJKLAMCEOEWNCBUXCAIE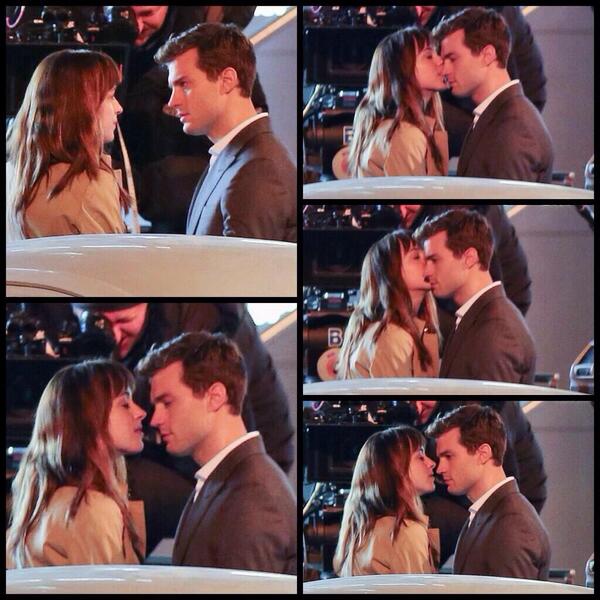 This is only a kissing on the cheek but i already went asdfghjkl XDD
I wonder how the bed scene look like. I'm so excited xDD
JAMIE DORNAN IS SO DAMN HANDSOME. I CAN'T EVEN..... *dies*
His wife is pregnant now, and he has role like this. OMG if I were his wife i'm gonna kill him xDD
I curious with the "Laters, baby!" scene too. If you read the book, you will understand that xD
Sorry for long rants LOL
See ya!
(●º╰╯º●)
今の気持ち:
excited
音楽♪: Britney Spears Feat T.I - Tik Tik Boom ♬*゜